Vending Machine
Vending Machine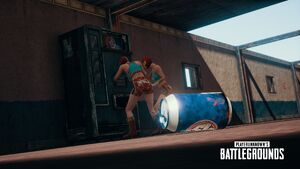 Vending Machine is a piece of equipment in BATTLEGROUNDS.
N/A
Update #36 (Season 5 - Update 5.3)- vN/A
Reduced the maximum number of uses per Vending Machine from 15 to 10
Update #34 (Season 5 - Update 5.1) - vN/A
Added Vending Machines.

Vending machines have been placed in Miramar and Camp Jackal to provide a new looting experience other than picking up items spawned on the floor.

You can get Painkillers and Energy Drinks from Vending Machines.
Vending machines are only available in Miramar and Camp Jackal.

In Miramar, vending machines spawn randomly at set locations.

Locations: Arenas, Casino, gas stations, Motels and commercial buildings.

In Camp Jackal, Vending Machines always spawn at the warehouse and gas station.

If you're lucky, Vending Machines can dispense many Energy Drinks at once.

Be careful when you use the vending machine as cover. The vending machine is protected by cutting-edge anti-theft technology, and any attempt to damage the machine may expose your location to the enemy!